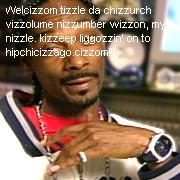 Inspired by DJ Whoo Kid's Smoking Day 2, which featured Snoop narrating a collection of 50 Cent and Snoop rarities, the Long Beach rapper is launching his own mixtape series this summer.
Snoop's first installment, Welcome 2 the Chuuch, Vol. 1, will unofficially roll out in the coming weeks with unreleased material from the rapper, Nate Dogg, Marvin Gaye, Warren G, Redman, Xzibit, Beanie Sigal, Daz, Bad Azz, Freeway, RBX and Soopafly, along with other Doggy Style Records artists. Fans can order the collection now at www.doggystylerecords.com.
Snoop Dogg, who has certainly clashed with authorities a few times over the years, settled the score on Wednesday at Long Beach City College Veteran Stadium, where his All-Stars beat the Inland Empire Police Department Enforcers 33 to 21. After catching a slant in the center of the end zone, Snoop got down on his knees, put his hands behind his head as his teammates "frisked" him and then motioned as though he were being handcuffed. "I got in the position where the police should have arrested me, 'cause I was doing too much," Snoop joked at halftime.